arif abubakar
Tks gan GPS Garmin 158i nya sudah diterima dan dites siap pakai ndak ada kendala pengiriman juga cepat begitu ditransfer langsung dikirim tks ya
AGUS BUDIARTO
Om Nasihun... Terima kasih ya jam tangan GPS Garmin Fenix 3 Sapphire with metal band nya udah saya terima...Mantap banget... Bayar hari ini barang langsung kirim.. 2 hari udah nyampe...sip plaza GPS....
detail
muhammad jaidi
Mas nasihun.. thank u mlm transaksi siangnya barang sdh nyampe... gps garmin 64s and celestron 70 eq nya sdh sampe dengan selamat... thank u,, pelayanan sangat memuaskan plaza gps..
» lihat testimonial
» isi testimonial

Garmin vivoactive HR
GPS Smartwatch with Wrist-based Heart Rate
GPS smartwatch with a sunlight-readable, high-resolution color touchscreen

Built-in sports apps include GPS-enabled running, biking, swimming and more — no phone connection required

Customize with free watch face designs, widgets and apps from our Connect IQ™ store

Receive smart notifications¹ and smart coaching from Garmin Connect™ when paired with your phone

Up to 8 days' battery life² in watch/activity tracking³ mode or up to 13 hours using GPS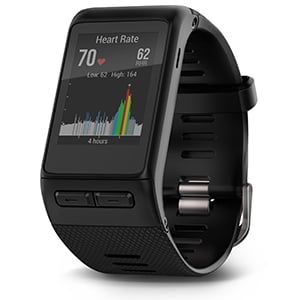 All Heart, All the Time
With Elevate™ wrist heart rate technology³, you can ditch the chest strap and measure heart rate from the wrist. Using heart rate data, vívoactive HR provides calories burned information and quantifies the intensity of your fitness activities, providing better credit for your efforts.
Keeps Up With All Your Active Moments
Run, bike, swim, golf, ski and more with vívoactive HR. Its GPS-enabled built-in sports apps track your stats while smart notifications allow you to stay connected — all so you can keep your life in balance. vívoactive HR continues to track activity³ throughout your day by counting steps and floors climbed as well as monitoring sleep and calculating intensity minutes. You won't have to worry about this watch keeping up with you. The rechargeable battery lasts up to 8 days² in watch/activity tracking mode or up to 13 hours using GPS.
Insights from Garmin Connect
Throughout your day, vívoactive HR automatically syncs¹ to Garmin Connect. Garmin Connect is the only free app that gets to know you and then delivers the insights to help you beat yesterday. These include cues to move if you're not on track to meet your step goal — or shoutouts when you do hit those milestones. Plus, you'll get healthy tips from experts that become like virtual coaches.
Hit the Ground Running
Using its built-in accelerometer and GPS, vívoactive HR allows you to run both indoors and out. You can set up vibration alerts for heart rate, pace, run/walk intervals and more. Other training features include Auto Lap® and Auto Pause®. Provides post-run summary with stats such as total mileage, calories, average pace and overall time.
On the Bike
The GPS-enabled cycling app measures time, distance, speed and calories. It's compatible with sensors4, such as speed and cadence, to measure your progress on training rides as well as daily commutes; also compatible with Varia® lights and radar for safer riding.
Dive In
Hit the pool's lap lanes and see detailed stats like total and interval distance, pace, stroke count, stroke type and more. Let the swimming app calculate your efficiency with swolf, which adds the time and the number of strokes it takes to swim a pool length. Interval Count lets you seamlessly pause and then resume your workout. At the end of a workout, view your summary data, which includes interval and session averages, overall time and personal records.
Tee Off
Play new courses every day by downloading 1 of 40,000 course maps worldwide from our golf course database. The golfing app can show a simplified view of the green and help you track your score, letting you see if you're under or over par. The PinPointer feature points you in the right direction when you are unable to see the green. It also measures shot distance at the press of a button.
Row, Row, Row
If you like to paddle board and row — indoor or open water — the built-in paddle boarding app tracks and displays all your stats. See pace, overall time, distance and stroke all at a glance when out on the water or in the gym.
On the Slopes
For a day of skiing or snowboarding, vívoactive HR measures your 3-D speed by calculating the speed and distance on an incline versus latitude and longitude. It also provides your splits automatically and gives you the option to turn on Auto Pause, which freezes the timer automatically when you stop or ride the lift.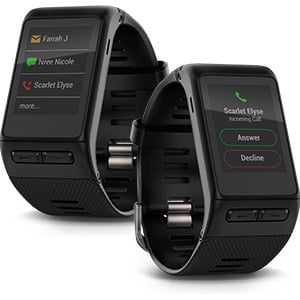 Stay Connected
vívoactive HR gently vibrates to alert you to all the same notifications you receive on your compatible device¹ — from phone calls to social media alerts to other alerts from mobile apps. vívoactive HR also displays weather information, temperature and more. Additionally, it lets you control the music on your phone, locate your phone1, remotely control your VIRB® action camera and let your friends and family track your activities in real time with LiveTrack. Personalize vívoactive HR with custom watch faces, data fields, apps and widgets from our Connect IQ™ store.
Physical & Performance

Physical dimensions

Watch only: 1.19" x 2.24" x 0.45" (30.2 mm x 57.0 mm x 11.4 mm). Regular fits wrist circumferences 5.39" to 7.68" (137 mm to 195 mm); X-large fits wrist circumferences 6.38" to 8.86" (162 mm to 225 mm)

Display size, WxH

0.80" x 1.13" (20.7 mm x 28.6 mm)

Display resolution, WxH

205 x 148 pixels

Touchscreen

Color display

Weight

Regular bands: 47.6 g; X-large bands: 48.2 g

Battery

Rechargeable lithium battery

Battery life

Up to 8 days in smartwatch mode (with 24/7 heart rate monitoring, No-GPS), up to 13 hrs in GPS mode

Water rating

5 ATM

GPS-enabled

GLONASS

High-sensitivity receiver

Barometric altimeter

Electronic compass

Smart notifications (displays email, text and other alerts when paired with your compatible phone)

Vibration alert

Music control

Find my phone

VIRB® control

Watch functions

time, date, calendar, and alarm
Maps & Memory

Waypoints/favorites/locations

Save location
Running Features

Accelerometer (calculates distance for indoor workouts, without need for a foot pod)

Personal records
Cycling Features

Bike speed/cadence sensor

Yes (optional)
Performance Features

Heart rate monitor

Yes (wrist-based)

Auto Pause® (pauses and resumes timer based on speed)

Auto Lap® (automatically starts a new lap)

Auto Scroll (cycles through data pages during workout)

Pace alert (triggers alarm if you vary from preset pace)

Time/distance alert (triggers alarm when you reach goal)

Heart rate-based calorie computation

Calculates calories burned

Customizable screen(s)

Shock Resistant
Swimming Features

Pool swim metrics (lengths, distance, pace, stroke count/rate, calories)
Golfing Features

Measures shot distance (calculates exact yardage for shots from anywhere on course)

Yardage to F/M/B (distance to front, middle and back of green)

Yardage to layups/doglegs

Digital scorecard
Activity Tracking Features

Step counter

Auto goal (learns your activity level and assigns a daily step goal)

Move bar (displays on device after a period of inactivity; walk for a couple of minutes to reset it)

Sleep monitoring (monitors total sleep and periods of movement or restful sleep)
Garmin Connect™

Garmin Connect™ compatible (online community where you analyze, categorize and share data)

Automatic sync (automatically transfers data to your computer)
Additional

Additional

Pairs with your smartphone to gently vibrate and display alerts for incoming calls, texts, emails and calendar items plus notifications from social media and other mobile apps

Connect IQ™ Support: yes (watch faces, data fields, widgets and apps)

Calculates floors climbed: yes

Calculates intensity minutes: yes

Wireless Connectivity: yes (ANT+™ and Bluetooth Smart)

Supports heart rate and heart rate zone: yes

On-device sports apps: running, indoor running, biking, indoor biking, walking, indoor walking, rowing, indoor rowing, pool swimming, golfing, ski/boarding, cross country skiing, stand-up paddle boarding (SUP)

On-device widgets/screens: My day, intensity minutes, heart rate, last sport, smart notifications, weather, VIRB® action camera/remote, Varia remote, music player controls, calendar, steps, calories, sleep, run, bike, swim and golf
Compatible Device:
In The Box :
vívoactive HR

Charging/data clip

Manual
15 Januari 2018
GPS & FISH FINDER UNTUK PARA NELAYAN MODERN
Dengan teknologi GPS para nelayan bisa mengetahui koordinat lintang bujur, arah dan kecepatan,Karna GPS merupakan alat navigasi berbasis satelite, dengan bantuan gps juga para nelayan bisa menentukan rute perjalanan, menandai tempat-tempat penting: seperti tempat yang banyak ikan, tempat kapal karam, tempat yang dangkal dan sebagainya.
detail
13 Januari 2018
MENGENAL GPS GEODETIC
GPS(Global positioning system) pada dasarnya adalah alat yang digunakan untuk menentukan letak posisi dengan menggunakan bantuan satelite, perlu diketahui juga bahwa GPS ini memiliki bermacam-macam jenis mulai dari gps otomotif, mapping, sport, biker, marine, geodetic, aviation dll
detail
13 Januari 2018
PERBEDAAN THEODOLITE DAN TOTAL STATION
THEODOLITE adalah alat yang dirancang untuk pengukuran sudut yaitu sudut mendatar yang dinamakan dengan sudut horizontal dan sudut tegak yang dinamakan dengan sudut vertical
detail
12 Januari 2018
APA ITU WATERPASS???
WATERPASS adalah alat yang digunakan untuk mengukur atau menentukan sebuah benda atau garis dalam posisi rata baik pengukuran secara vertikal maupun horizontal
detail
19 Desember 2017
MENGGUNAKAN APLIKASI SMARTPHONE LINK PADA GPS GARMIN NUVI 2567
Cara menggunakan aplikasi Smartphone Link pada Gps Garmin Nuvi 2567 Lm
detail
3 November 2017
GARMIN MONTANA 680 & MONTANA 680T
Montana 680 dan 680t memang serupa hanya dengan sedikit perbedaan dalam hal peta paket dan kapasitas memori built-in. Keduanya memiliki peta dasar, tapi hanya 680t Montana yang hadir dengan TOPO 100K yang sudah dimuat. Yang terakhir ini memiliki kapasitas memori built-in yang lebih besar dengan 8GB juga. Untuk spesifikasi lebihnya kedua GPS ini sama.
detail
11 Oktober 2017
Review Perbedaan Forerunner 935 dan Forerunner 735XT
Garmin baru-baru ini meluncurkan produk baru seperti GPS Watch Vivovit JR 2 dan Forerunner 935. Pada artikel kali ini saya akan bahas perbedaan Forerunner 935 dengan Forerunner 735XT. Kenapa harus bahas kedua produk tersebut? Padahal kan produk yang baru Vivovit JR 2. Karna Forerunner 935 termasuk GPS Premium Running / Triathlon Watch dengan Wrist-based Heart Rate begitu juga dengan forerunner 735XT tapi memiliki fitur multisport.
detail
23 September 2017
CARA MEMBUAT RUTE GPS VIA GOOGLE EARTH
tutorial pembuatan rute via google earth
detail
20 September 2017
Perbedaan Garmin Nuvi 55LM, Nuvi 65LM, dan Nuvi 2567LM
Kini fitur navigasi sudah tersedia pada smatrphone canggih, tapi apabila kita ingin menggunakan navigasi yang akurat untuk petunjuk alamat yang belum dikunjungi sebelumnya fitur navigasi yang ada dismartphone rasanya sangat kurang. Berikut tipe-tipe navigasi yang barangkali cocok digunakan untuk anda.
detail
31 Juli 2017
Keunggulan Garmin GPS 64s yang Wajib dimiliki oleh Pecinta Travelling
Travelling merupakan hobby yang paling disukai oleh kebanyakan orang. Tapi terkadang pada saat kita travelling lokasi yang akan dituju tidak sesuai pada maps yang tertera di smartphone alhasil perjalanan bisa jadi tersasar. Maka dari itu kita harus punya GPS yang sangat akurat sekali untuk mengetahui posisi kita walaupun lokasinya jauh dari lingkungan masyarakat.
detail
7 Juli 2017
Perbedaan Leica Disto D2 New dengan Leica Disto D1
Pada artikel kali ini saya akan mendeskripsikan Leica Disto D2 New beserta dengan perbedaan Leica Disto D1, Karena laser meter ini kecil dan bisa dimasukan kedalam saku maka pada saat penggunaanya sangat praktis hingga hasil pengukurannya pun akurat.
detail
20 Juni 2017
Merajut Kebersamaan 2017
Alhamdulillah Puji Syukur kepada Tuhan Yang Maha Esa, tahun ini keluarga besar Plaza Gps diberikan umur yang panjang serta raga yang sehat, sehingga bisa berbuka bersama di Saung Serpong pada tahun 2017 ini. Kami keluarga besar Plaza Gps selalu mengedepankan sifat kekeluargaan baik itu karyawan maupun atasan tidak ada perbedaan ataupun rasa canggung diantara kami, hingga kami mencintai apa yang kami kerjakan saat ini. Hidangan yang begitu banyak rasanya tak cukup untuk kami nikmati tanpa adanya keluarga dari masing-masing karyawan, canda tawa tak ada habisnya disaat itu baik anak-anak maupun orang tua.
detail
7 Juni 2017
TUTORIAL PENGGUNAAN GPS GARMIN 78s
Penggunaan singkat GPS GARMIN 78s
detail
5 Juni 2017
TUTORIAL PENGGUNAAN LEICA DISTO D110
Tutorial penggunaan singkat LEICA D110
detail
5 Juni 2017
TUTORIAL PENGGUNAAN LEICA DISTO X310
Penggunaan leica disto X310
detail
5 Juni 2017
TUTORIAL PENGGUNAAN LEICA DISTO D2
Penggunaan singkat leica disto D2
detail
2 Juni 2017
TUTORIAL PENGGUNAAN GPS GARMIN RINO 650
Tutorial/penggunaan singkat GPS GARMIN RINO 650
detail
1 Juni 2017
tutorial penggunaan GPS GARMIN eTrex Touch 35
Penggunaan simple GPS garmin eTrex touch 35
detail
» index berita